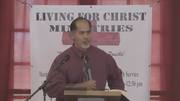 Elder Fusi Fuauli Jr.
Elder Fusi Jr. was born on February 28, in Waianae, west Oahu; raised in a Christian home, his mother and father were firm believers and taught their children to put God first and obey God's Word.
While at a church youth camp meeting, Elder Fusi Jr was filled with the baptism of the Holy Spirit. From that time on, he attended a Pentecostal Church in Honolulu. He is also a U.S. Army Veteran from (1980 to 1984).
In 1988, Elder Fusi Jr somehow backslid for a few years, then he and his family found a church home where he was taught about Spiritual Warfare and received his ordination under Pastor Gary Bixby. However, after attending the church, the Pastor and his wife relocated. And he and his family attended other churches but did not find a church home. Then his wife shared with him about a Church being held at the school she worked, so Elder Fusi Jr visited that church (Living For Christ Ministries) and never turned away.
Elder Fusi Fuauli Jr Joined Living For Christ Ministries in October 2010. Pastor Charles Webster called him his Elder in 2014, of the church, alongside him. On January 22, 2017, Elder received his Minister License and Ministerial Partnership Membership.
Elder Fusi is called into the Office as an Evangelist. His life experience and walk with God allow him to reach the local community, sharing Jesus Christ's love with all lost. He is also passionate about his family and the church.
Elder Fusi Jr is married to Letitia Ann Fuauli, a woman of God in prayer; Letitia is called into the Office of an intercessor; they have two wonderful adult children, Montgomery and Polinahi Johnson.

Sister Letitia A. Fuauli
Called in the office of intercessor (PRAYER SHIELD)